Three New Crew Members are Scheduled to Fly to the International Space Station Thursday
Mar 28, 2013 11:07 AM EDT
NASA astronaut Chris Cassidy and Russian cosmonauts Alexander Misurkin and Pavel Vinogradov are scheduled to leave Earth at exactly 4:43 p.m. EDT in what is to be the fastest manned flight to the International Space Station.
Since the Space Station was first started nearly 13 years ago, it it has taken Russian Soyuz capsules and U.S. space shuttles an average of two days to reach it. Thursday's launch, however, is planned to take only six hours, as explained in the following infographic provided by Space.com: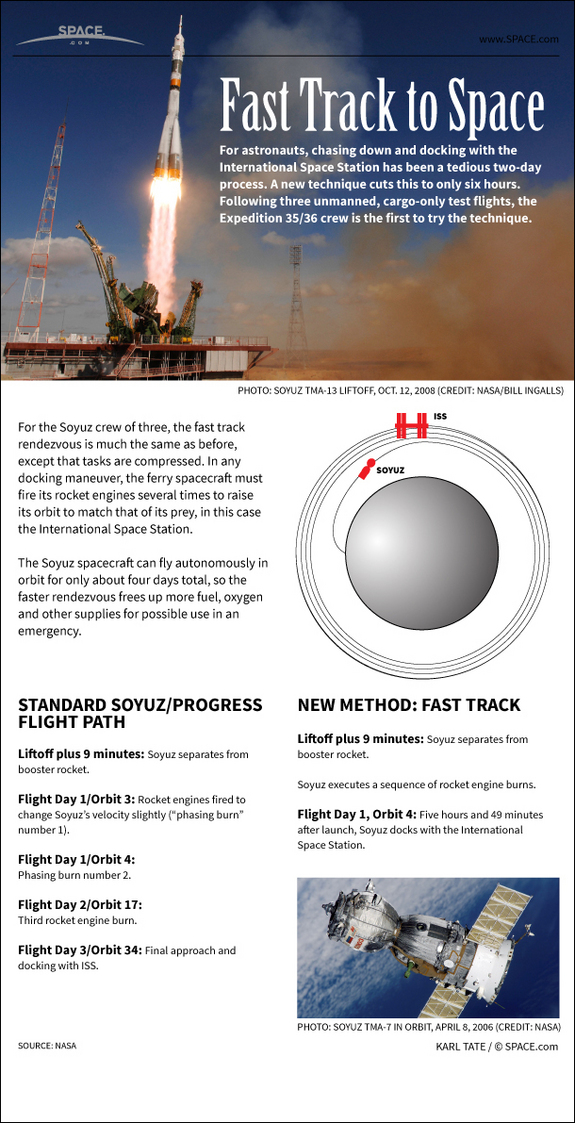 Source SPACE.com: All about our solar system, outer space and exploration
Cassidy, Misurkin and Vinogradov will stay for roughly six months aboard the Space Station. Some of this time will overlap its current occupants - Canadian Chris Hadfield, Russian Roman Romanenko and NASA astronaut Tom Marshburn.
"It's shaping up to be a really exciting expedition - we've got a lot going on," Cassidy said, according to Fox News. "We're very excited to join our friends and colleagues Roman, Chris and Tom on the Space Station."
Among the crew's many tasks - including scientific experiments - will be spacewalking in order to conduct needed maintenance on the Space Station.
"It's a very fun and very interesting activity for us," Misurkin said.
Cassidy told the press he is especially looking forward to seeing his home from space.
"Flying over my hometown - that, I'm really excited about," he told Space.com in a preflight interview. "I come from a small town in Maine and there are a lot of people watching and that brings me a great amount of pride."
For Vinogradov, the Space Station is something of a home itself, having been there before.
"Going back to the International Space Station feels like going back home," he said. "I recognize the station is completely different from what it was when we were there. I think this is my second favorite place besides my home."
Current Space Station crew members are still hard at work maintaining the station and continuing experiments, including what NASA is calling the Energy experiment, aimed at measuring how much food astronauts need during long space missions.
Those interested in watching the launch can do so from Space.com.
© 2018 NatureWorldNews.com All rights reserved. Do not reproduce without permission.